ZOOM
CUSTOM WORDPRESS DESIGN AND DEVELOPMENT
Client
The leading video communications provider, Zoom, offers anybody the ability to connect with family, friends, coworkers, students, fans, supporters, and more across the globe.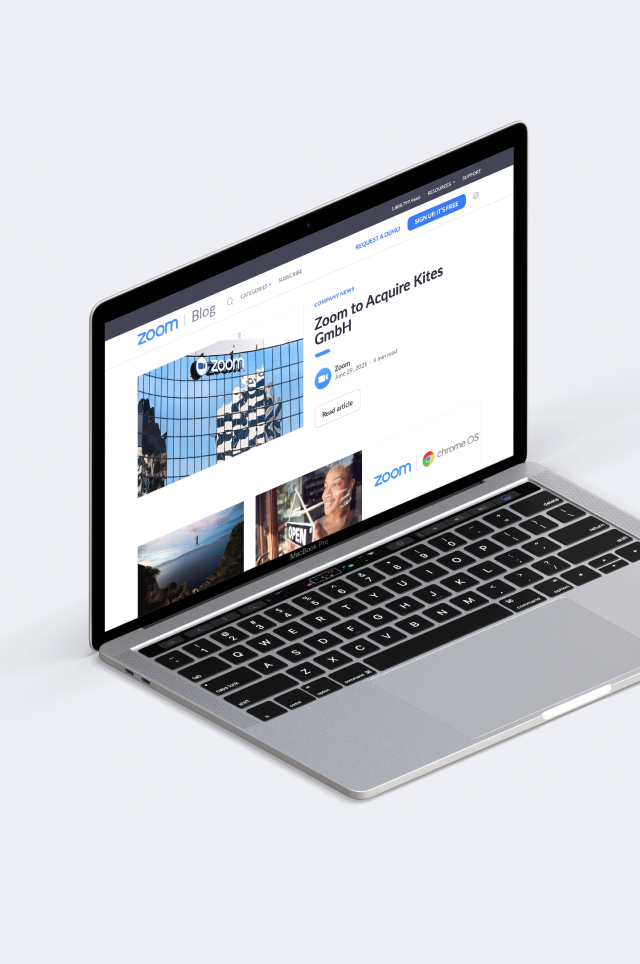 Challenge
Zoom has been building communication tools for the last ten years but really blew up during the pandemic when everyone from businesses to your grandmother started to use it during the lockdowns. Constantly looking to grow its user base, Zoom had difficulties with their corporate blog which they had been using for years to drive and capture sales leads via a contact form and email subscription service but it wasn't working and was hard to maintain for non-technical users. They wrote down a number of goals which included the need to spotlight company news, highlight exceptional use cases of people using their tools in creative ways, and grow their international audience. Their hope was that this would drive more leads back to their sales team and present a new face for the company as it was growing to the moon. Their blog from 4 years ago was not helping to achieve those goals. It was outdated and confusing and failed to capture readers' emails, leaving the sales team with an empty source of leads.
Zoom needed to hire a software development company that could modernize the blog's look and feel, improve load times, and provide a seamless user experience with enhanced search and subscriber signup capabilities. After an exhaustive search and a company pitch that showcased designs and a plan for the new blog's development, the Zoom team selected Spiral Scout over a number of other expert software development consulting service providers.
Strategy
To address these challenges head-on, Spiral Scout set up a dedicated software development team that included 2 front-end and back-end WordPress developers, a quality assurance engineer, a lead designer, and a project manager. Our first step was to conduct a comprehensive review of the existing Zoom blog, their brand book, review their current analytics and the quality of the signups that were being sent to sales, and 20 other similar corporate IT company blogs to analyze the landscape and create a comprehensive UI Kit for the new Zoom blog.
The UI Kit included typography, color palettes, and each element based on the client's requirements. We pitched the Zoom team a visually stunning and cohesive design that reflected the Zoom brand's values and addressed their stated goals at the start of the project.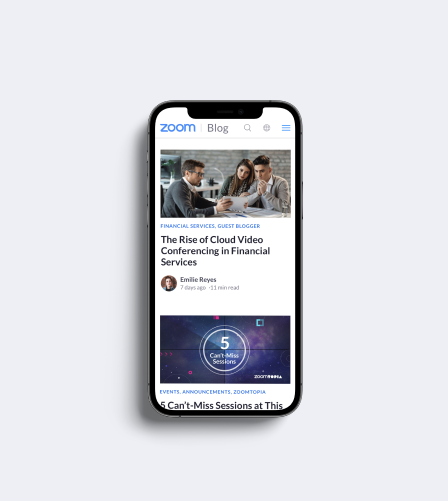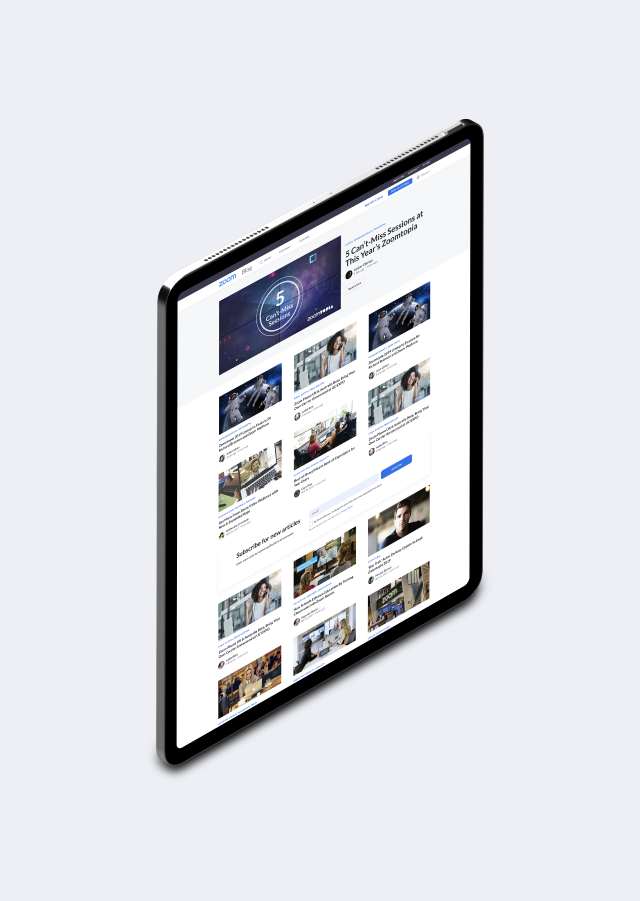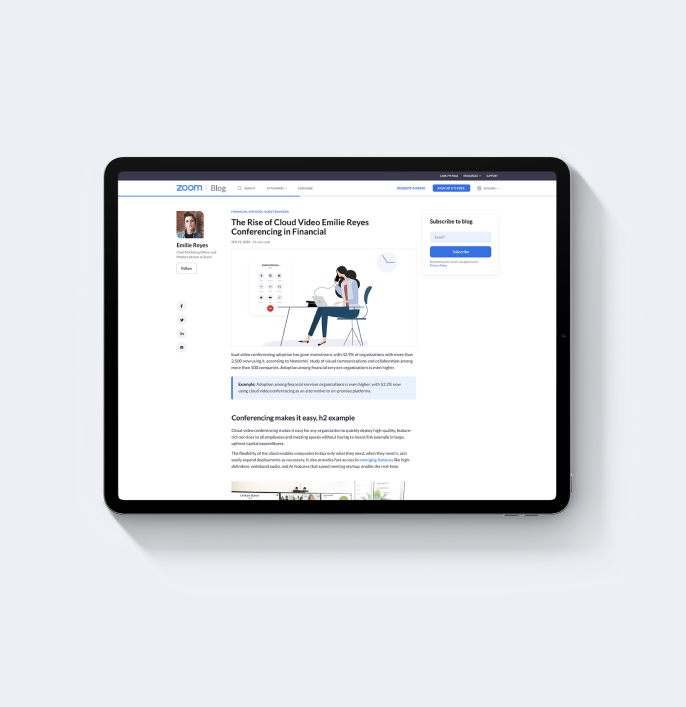 Solutions
Technologies
WordPress
Polylang
Lingotek
Pardot
HotJar
TrustArc
YoastSEO
Advanced Custom Fields PRO
Our web designer and team of WordPress development experts presented draft designs for two critical pages, carefully incorporating feedback, making necessary revisions, and commenting on the length of time the designs could take to develop before moving forward. With Zoom's approval, we went on to create the remaining desktop designs, followed by mobile versions, ensuring a seamless and engaging experience across all devices.
We constantly kept the client informed at each stage of the process. To achieve this, we shared all web design layouts with them via a clickable prototype on invisionapp.com, allowing for easy back and forth to gather their feedback in real time. In general, our software development consulting services include a project manager, who, in the case of the Zoom project, led weekly meetings, organized and kept track of Zoom's feedback so nothing was lost within our project management software and timelines/budgets were not exceeded.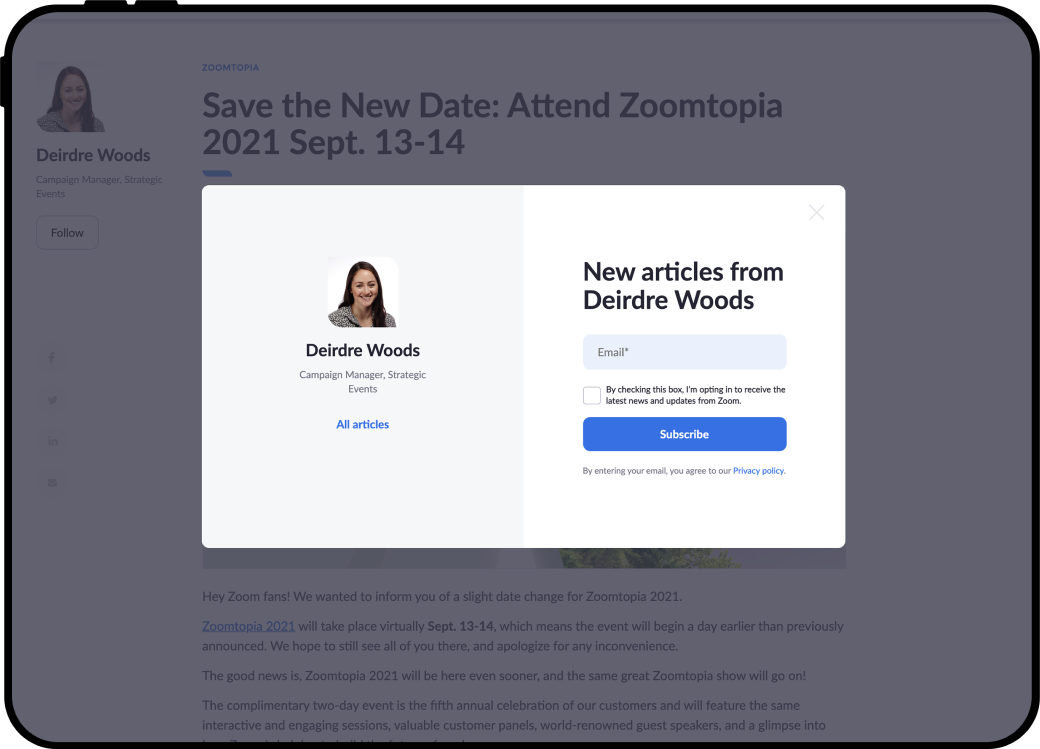 Results
The success of any project lies in effective communication and doing what you say you will do. Zoom's blog redesign project is a great example of this. Our team clearly shared our ideas for the web design and improvements with the Zoom team before development and explained why we did certain things and what we expected the outcome to be. At the same time, we effectively communicated the timeline and budget which was never exceeded and kept the client happy. This has been proven by the fact that after four years we are still supporting and maintaining the work that we initially did for them.
For most of our clients that need a CMS, we offer a number of custom WordPress development solutions or headless solutions on Sanity or Contentful. The goal is always to improve slower load times, enhance the UI/UX and provide a solution that we know will grow their business and readers.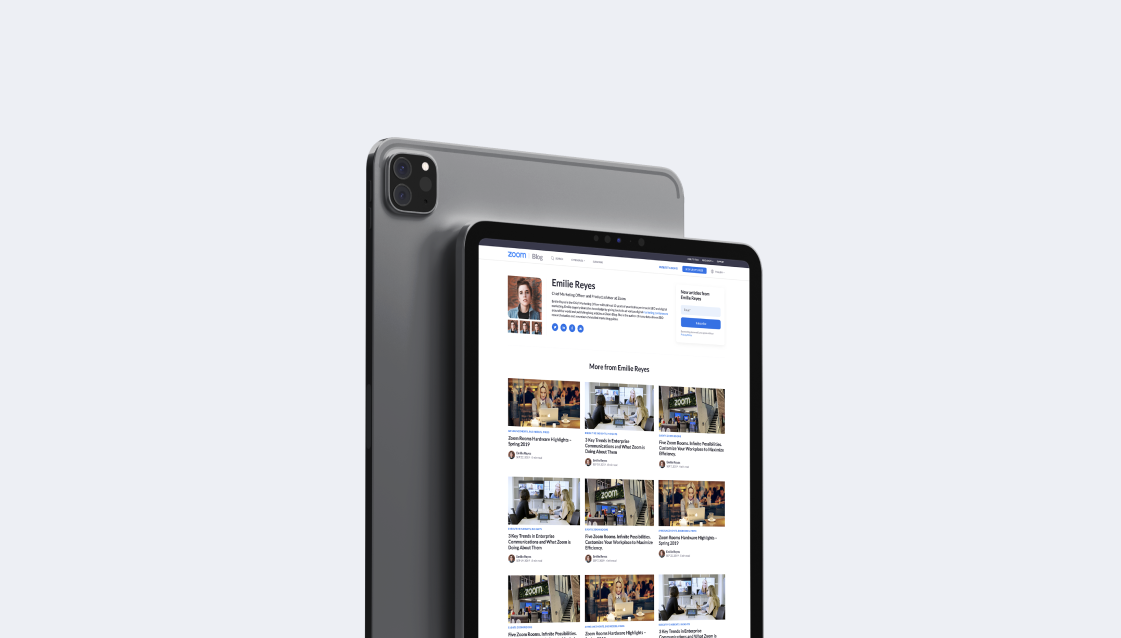 Review
"Spiral Scout is always willing to understand our needs, and if they can't, then they gather each side to talk everything through. They're super responsive and really understand trends in web design. They shot down outdated ideas and brought modern ones to the table. Spiral Scout truly cares about the end results."
Overall score
At Spiral Scout, we believe that when it comes to software development and delivery, it's time for a change.
Scheduling
On Time / Deadline
Quality
Service & Deliverables
Cost
Value / Within Estimates